12 shortcut tools for lazy community management
Written by Courtney Seiter and published
---
---
It's summer. I don't know about where you are, but at Raven's Nashville HQ, it's about a billion degrees. It's time to be lazy.
Honestly, I like to think of all the tools below as actually making me more productive – they all work so well to cut through any extra steps and help me get right to the meat of building and tending to the Raven Tools community.
But they do all have the benefit of providing nice shortcuts and helping make the most of my time – a must when I've got snacks to eat and roof games to play.
OK, lazy intro concluded. Here are my top 12 shortcut tools! (P.S. All these tools have at least some kind of free plan, because I'm lazy and cheap.)
I already wrote a whole post about this tool, but its magical shortcut is best appreciated for 1) conferences and events and 2) crowdsourcing. Roll the top tweets from a conference into Storify. Ask your community a question and gather up all the answers in Storify. Either way, you've got yourself a shiny new blog post with minimum effort!
There's simply no lazier/awesomer way to curate content than Buffer. Their bookmarklet makes scheduling Twitter posts a snap by pulling in the article's headline and URL (with your choice of shortener) automatically, and their integration with Tweriod means you can maximize your time slots for peak audience. You can Buffer posts right from a feed reader, which is a supercool shortcut. Also neat: a new integration with Facebook that allows you to Buffer Facebook posts right into your Twitter queue.

Exhausted by examining each new Twitter follower? This Twitter management tool has lots of filters to allow you to work with your community in any way that's convenient for you. Bulk add/delete or filter by follower/friend ratio, how frequently someone posts and many other neat bells and whistles. Real-time analytics show you who's active at any given moment, and SocialBro's when-to-tweet report updates as your community grows and changes.
4. Feed Readers
When your community is full of Internet marketers and content marketing is reaching its fever pitch, you have a lot of reading to keep up with. I use a feed reader (plain ol' Google Reader for me, but there are plenty of options out there) to keep up with blogs by Raven's many partners, Raven customers and more. This way I never miss out on a post and I can read everything at a time that's convenient for me. Feeds can also be really useful in social media monitoring.

A nice visualization of how your efforts are faring on Facebook and Twitter, Crowdbooster's lazizness secret weapon is in its alerts regarding influential new followers by Klout score (hit-or-miss, but still better than nothing) and nice lists of top Facebook commenters and frequent RTers on Twitter. Those are the fans and followers I want to build a stronger relationship with, and this helps to get them on my radar quickly.

An awesome, quick and easy way to get an overview of how your content is doing in terms of social shares. If you run a blog with multiple authors or topics, or guest post in various spots (all of which we do at Raven) this is a great way to see what topics, authors and blogs are getting you the best traction so you can spend your effort in the right places. You can also export to CSV if you want to put it into a spreadsheet for reporting.
Industry newsletters on 100+ topics. SmartBlog on Social Media supplies me with a daily dose of news I need to know (and often, share). Choose your industry(s), then follow on Twitter, Facebook, LinkedIn or RSS to get a steady stream of great news and information.

A really simple way to find Creative Commons photos to illustrate blog posts. Compfight cuts through 4 or 5 steps I used to go through to do an advanced search in Flickr and is really lovely to look at to boot. A recently released WordPress plugin that makes the process even easier.
An archive of tweeted links from the Raven Tools Twitter account is a must. Many of the links to industry news, studies and surveys we share go on to become fodder for future blog posts or presentations. Both of these tools allow you to collect the links you post from Twitter, with the choice to make them public or private.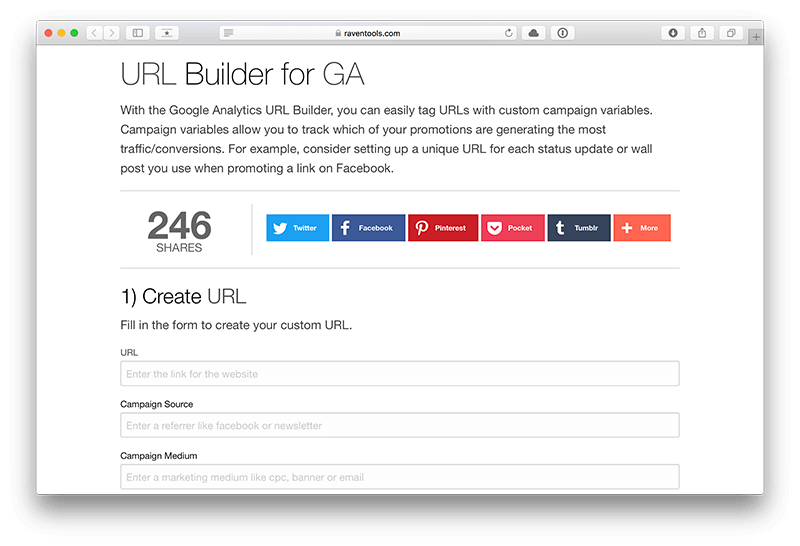 The counterpart to Shared Count. Combined with conversion tracking in Google Analytics, campaign variables help me keep track of which content and promotions are generating the most traffic and conversions. How I set them up: Source=Twitter, Facebook, GooglePlus or LinkedIn; Medium=social; Campaign=whatever you're working on, like "blog" or "landing page."
Hoo boy, If This Then That (IFTTT if you're into the whole brevity thing) is the motherload of shortcuts for lazy people – this thing will text you the weather every morning, for Pete's sake. Before you get too trigger-happy, really think through the best ways to use IFTTT's powerful "recipes" that trigger different automated activities. Send Facebook photos to Flickr automatically. Save favorite tweets to Evernote. Send Instagram photos to Dropbox.