Ultimate List of marketing Twitter chats
Written by Jeremy Rivera and published
---
---
Twitter is a hub for influential people – including authorities on SEO, social media and online marketing. The difficult part is separating the valuable messages from self-promotion.
One way to cut through the noise and get to the good stuff is to find and participate in Twitter chats that are relevant to your industry.
Twitter chats use specific hashtags and a specific time period to hold a discussion, normally led by an organizer who posts questions to prompt answers from the community.
Twitter chats occur for almost any topic you can think of – in fact, there are so many that it's often difficult to keep up.
That's why we created our Ultimate List of marketing Twitter chats. Use this resource to connect with valuable marketing discussions on Twitter – and if you know of any chats we missed, be sure to let us know in the comments.
---
Want to make view Twitter chats easily? Here's a list of resources to help you follow hashtags during chats. If you're a Raven customer, you can also set up a Social Monitor search to follow a discussion or multiple hashtags on Twitter.
---
#SEOChat
Sample tweet:
I read a story that businesses were going to Craigslist and paying for Yelp reviews … YOU ARE DOING IT WRONG #SEOCHAT

— Matt Siltala (@Matt_Siltala) November 29, 2012
---
#PoCChat Power of Connection Chat
Recent moderators: @raehanbobby
Recent topic: "Leveraging micro-communities"
Chat time: 12 a.m. EST on Mondays
Recap website: What I like about #POCChat
Sample tweet:
A7 An open mind is also a great tool for most things. You can always learn from others #pocchat

— Stéphanie Montreuil (@Steph_Montreuil) November 26, 2012
---
#PPCChat
Recent moderators: @Matt_Umbro,@shuey03, @LukeAlley
Recent topic: "PPC strategies and tests"
Chat time: 1 p.m. EST on Tuesdays
Recap website: The PPC Blog
Sample tweet:
A7 test one thing at a time so you know what change produced the results #ppcchat

— kasia lorenc (@kasialorenc) November 27, 2012
---
#SEOTalk
Recent moderators: @MalharBarai(Founder), @jaydipparikh
Recent topic: "Learn more about 'Rich Snippets'"
Chat time: 10 a.m EST on Mondays
Recap website: Twebevent
Sample tweet:
One stop list for Google Authorship raventools.com/blog/ultimate-… #SEOTalk

— Jaydip Parikh (@jaydipparikh) November 26, 2012
---
#MyBlogGuest
Recent moderators:
@
SEOSmarty
 (Founder), @
SanaKnightly
Recent topic:
"Writing great bylines for guest posts"
Chat time:
 11 a.m. EST on Thursdays
Recap website:
MyBlogGuest
Sample tweet:
Formula:NAME is POSITION at COMPANY providing SERVICE in COUNTRY. U can follow NAME's personal & business ramblings at @twitter #myblogguest

— Ann Smarty (@myblogguest) November 15, 2012
---
#BlogChat
Recent moderators: @MackCollier
Recent topic: "Best practices around personal and professional blogging"
Chat time: 9:00 p.m. EST on Sundays
Recap website: What is #blogchat
Sample tweet:
Customers who view product videos are 85% more likely to make a purchase! #blogchat — Catherine Hedden (@CatherineHedden) November 30, 2012
---
#BrandChat
Recent moderators: @brandchat
Recent topic: "Brands: The rise and fall"
Chat time: 11 a.m. EST on Wednesdays
Recap website: Brand Chat
Sample tweet:
A1 – Biggest lesson from Hostess: Just because you have an iconic brand doesn't mean you're immune to failure. #brandchat

— Jonathan Barrick (@j_barrick) November 28, 2012
---
#SMChat
Recent moderators: @ambercleveland
Recent topic: "Customer service and social media"
Chat time: 1 p.m. EST on Wednesdays
Sample tweet:
Test, measure, improve, repeat 🙂 RT @autom8: "@smbiz_marketer: How do you know if social media is worth it for your business?" #smchat

— Sharon Mostyn (@sharonmostyn) November 28, 2012
---
#PinChat
Recent moderators: @Tribe2point0 (Founder), @pinfluencer
Recent topic: "How to manage Pinterest promotions"
Chat time: 9 p.m EST on Wednesdays
Recap website: Pinchat with TAMU

Sample tweet:
@leciel22 brands expand their viral reach, generate more pins that lead to repins generating incremental clicks and revenue!! #pinchat

— Pinfluencer (@pinfluencer) November 29, 2012
---
#LinkedinChat
Recent moderator: @SteveCassady
Recent topic: "Personal branding on Linkedin"
Chat time: 8 p.m. EST on Tuesdays

Sample tweet:
Another tip, based on 3 emails today.Don't spam new connections with sales one day after connecting, Build A Relationship! #linkedinchat

— Steve Cassady (@SteveCassady) November 28, 2012
---
#MediaChat
Recent moderators: @Kilby76, @Tamcdonald
Recent topic: "Leveraging content curation to achieve marketing goals"
Chat time: 10 p.m. EST on Thursdays
Recap website: Hashtracking

Sample tweet:
A good community manger is a facilitator for discussion and inspires leadership & direction for the group #mediachat

— Timm McVaigh (@BrandIdeas) December 7, 2012
---
#GetRealChat
Recent moderators: @pamktgnut, @tamicann, @minicooper
Recent topic: "Social media has no shutoff button"
Chat time: 9 p.m. EST on Tuesdays
Recap website: Marketing Nutz

Sample tweet:
#getrealchat I want my on line presence to be as close to me as possible, ok maybe a slightly better version of me 🙂 @wittlake

— Benjamin Moore (@Beanmimo) November 28, 2012
---
#SocialChat
Recent moderator: @SocialMichelleR
Recent topic: "Social media automation"
Chat time: 9:00 p.m. EST on Mondays
Recap website: Hashtracking


Sample tweet:
@aknect Q3 I can't emphasize great images enough. We have GOT to learn to take better photos and integrate them #socialchat

— Jennifer Cario (@JenniferCario) November 27, 2012
---
#SMManners
Recent moderator: @Dabneyportne
Recent topic: "Building rapport with your audience online"
Chat time: 10 p.m. EST on Tuesdays


Sample tweet:
ONE bad tweet can destroy your reputation w brands and audience. Be nice. Always. #SmManners TIP

— Dabney Porte (@DabneyPorte) December 11, 2012
---
#CMGRChat
Recent moderator: @jpedde, @Kellylux
Recent topic: "Building community around video content"
Chat time: 2 p.m. EST on Wednesdays


Sample tweet:
I think a big part of engagement with video, is the amount of promotion that goes into it. They're mini events, in a way.#cmgrchat

— Jenn Pedde (@JPedde) December 5, 2012
---
#SeoPub
Recent moderators: @clayburn, @SEOPub
Recent topic: "Leveraging your offline advertising"
Chat time: 3:00 p.m. EST on Wednesdays
Recap website: Http://seopubchat.com


Sample tweet:
A2: We will have to start paying attention to which social signals impact rankings and move forward. We'll adapt as necessary. #seopub

— Tanner Petroff (@tannerpetroff) December 5, 2012
---
#RBchat
Recent moderators: @mackcollier, @cammipham, @Wedding_crasher
Recent topic: "Content that triggers conversation"
Chat time: 11 a.m EST on Tuesdays
Recap website: Epiloger


Sample tweet:
I find on social media age has no barrier… seriously met people I could be their parent or they could be mine still great friends #rbchat

— AnnMarie Brown(@anniecannie) December 5, 2012
---
#EcomChat
Recent moderators: @Jamesgurd, @danbarker
Recent topic: "Big ecommerce mistakes"
Chat time: 6 a.m EST on Mondays
Recap website: EcomChat.Org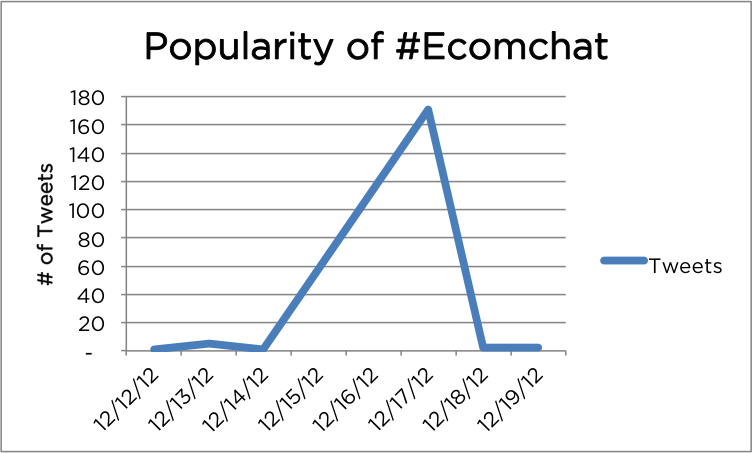 Sample tweet:
#ecomchatA1 slow reponse to emails. I hate calling up, so this should be a good option, but responses are often v slow.

— Graham Charlton (@gcharlton) December 17, 2012