I'm pretty convinced that one day we'll all communicate exclusively by animated GIFs and memes. At Raven, we're one step ahead of the curve on this – we've already created an entire Yammer channel devoted to them.
But who can blame us? We're truly in a Golden Age when it comes to this modern art form, and the Internet marketing world is no exception. A proliferation of fun Tumblrs and meme sites have grown up around the industry lately, and they're great for a bit of comic relief in the midst of algorithm updates and SEO infighting.
Here are some of the funny sites we've discovered and a sample of what you'll find there. Know about others? Let me know and I'll add them onto the list.
SEO
What Happens in SEO
Sample post: "When you try to escape a Google Filter…"

This SEO Life
Sample post: "Trying to make those spam links look legit"

SEO Ryan Gosling
Using the power of Ryan Gosling to make SEO a little sexier.

Shit for Links
This site offers, um, stuff in exchange for links, like a weird, totally biased eBay for rankings. Bid on stuff like a Monty Python record and this "lonely woman's tea set" and your link could win out.

Matt Cutts Super Captions
Work out your complicated feelings for Google's Matt Cutts on this Pinterest board, which invites you to find a photo of the titular spam-fighter and add your own caption.

SEO Rewind
The finest source for SEO satire, SEO Rewind bills itself as "search in another dimension." Here you can read about Google's latest update, Scissors, and learn Darth Vader's thoughts on retargeting.
SEO Failblog
I tried to find a good example post for this one, but I guess you have to be pretty SEO geeky to get into it. I really don't get it, but maybe you guys will!
SEM/PPC
PPC Memes
A meme site just for the PPC-ers.
SEM Ryan Gosling
Yeah, again with the Gosling. I know.

Only in Search Marketing
Sample post: "Agency life"

Social media
Corporate Twits
See where the trolls play with this site, which records how big brands deal with bizarre (and fake) social media questions and complaints.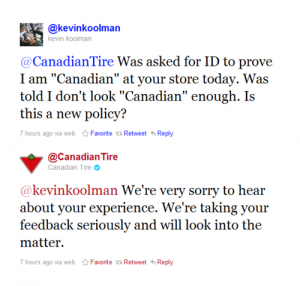 Klouchebag
If you want the opposite of Klout, you're in the market for Klouchebag, which "measures how much of an asshat you are on Twitter." I guarantee you'll waste lots of time putting in your name and your friends' names to figure out who the biggest Klouchebag is.
What Should We Call Social Media?

Condescending Corporate Brand Page on Facebook
You know all the cringe-worthy mistakes you see brands making on Facebook? Here's a spot-on parody of every single one. Like – and learn.

Internet marketing
Web Analysts of the World Unite
Finally, a GIF site for the analytics-minded among us.
Linkbait Generator
Need some viral content without having to, you know, have an idea and stuff? Head to the Linkbait Generator, where you can let the linkbait headlines wash over you. Plug in your own keywords for more specific headlines, like "8 ways men try using social media to get laid" or "10 thing SEO has in common with Satan." I actually kinda want to read that last one.
WTF QR Codes
Chronicling some of the least thought-out uses of QR codes. (Really, on the back of that bottle?)

Spam Salad
Collecting the best in Internet spam, including poetic bon mots like this one:
"Your way of expressing ideas is cute!"

-Ciails
This Advertising Life
Sample post: "When a freelance client doesn't know what they want and gets upset when I don't know where to start."

Only occasionally about marketing
McSweeney's Internet Tendency
A playground for humor writers from author Dave Eggers, this site often touches on marketing absurdity, from "Eeyore gets a marketing boost through synergistic merchandising cross-promotion" to "Prospectus for Silicon Valley's next hot tech IPO, where nothing could possibly go wrong" to the classic "I'm Comic Sans, asshole."
The writers also occasionally stumble onto something truly useful, like "The Ultimate Guide to Writing Better Than You Normally Do," (seriously, read that) without ever losing the wit.
The Oatmeal
Pretty sure we all already know about this one, so I'll just leave this, from "How to Get More Likes on Facebook."

P.S. May I also humbly suggest Raven's Pinterest board of funny Internet marketing photos?
Hey girl, are you a Raven customer yet? Sign up for a free 30-day trial today!