Case study: What can you do with social media listening?
Written by Raven Tools and published
---
---
As a PR professional who's been in communications for more than 15 years, I can say there's never been a bigger change than the introduction of social media. It's been both exhilarating and fraught with challenges and steep learning curves.
And yet the premise of solid communication is still the same: listening.
Most brands and professionals using social channels to build business aren't getting the message – or at least they're not hearing it.
Everybody's pitching, selling, and talking, talking, talking. And this "survival of the loudest" atmosphere makes it almost impossible to distinguish between the meaningful and the fluff.
In the opposite corner is social listening. It seems like a rather passive strategy, until you realize the many ways it can help you: providing valuable intelligence on competitors and prospects, serving up huge amounts of information to interpret and package, and opening doors with new clients.
I'm here to share an example of how social media listening helped our agency open some doors and change some of our strategic thinking.
The opportunity
Music festivals are a large part of the South in the summer. Festivals happen everywhere, of course, but there's something about the South that seems to attract a larger share of the big name festivals in every genre.
Fans come from all over the world and leave a significant, usually positive impact on the local business community. It means very real revenue dollars for municipalities big and small. Local merchants often plan their fiscal year around these influxes.
In June, two highly celebrated festivals – Bonnaroo and CMA Festival – were kicking off in the backyard of my communications agency, Zehnder.
Armed with the manpower and expertise for listening and assessing social activity, and supported by a highly creative approach to presenting the data, we saw an immediate opportunity for our social team.
The plan
The idea was simple: track social channels, mainstream media and other outlets posting content in and around the festivals.
Our goal was to glean meaningful facts that business owners, fans, musicians, and even city administrators would find not only interesting, but relevant in terms of their ability to provide festival visitors with an experience that would keep them coming back.
Having the technical ability to monitor social conversations was easy – we do that every day. The tricky part was figuring out what we were going to do with that information once we collected it.
The outreach
Ultimately, the most effective means of delivering our findings turned out to be a newspaper: The Tennessean. But first we needed a relationship.
Building a relationship with reporters is something that takes time and in in some cases, patience. You have to be respectful of their schedules and if you are going to pitch them something, it needs to add value to their readership first and foremost.
You may be building a relationship with an individual journalist, but your content has to entice their audience. If you can be a reliable resource for media on this front, you'll open a lot more doors.
We knew that reporters were already assigned to cover the festivals, so that's where we started. We told them what we were doing and asked if they would be interested in receiving the information we were aggregating. They were.
For about a week, our social team worked with the journalists to track down festival information they felt was most relevant and most compelling.
When they were done, they generated reports for our creative team to use in creating infographics that illustrated the trends that we tracked, being sure also to incorporate some of the flavor of each festival. The reporters used what we provided to add to a story about festivalgoers' social media activities.
The product
Here's the full version of our Bonnaroo infographic. You can see the CMA Festival infographic and many others on our State of the Listen series page.

The results
The story ran on the front page of the Tennessean's Business section the day after the last festival, accompanied by big photos of performers and a nice credit to our agency for providing the information.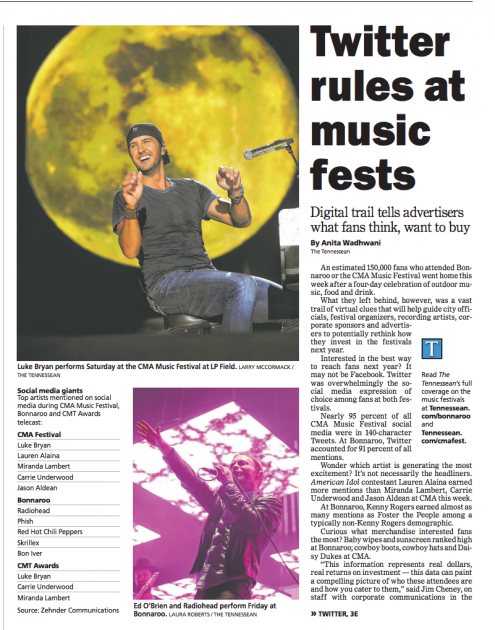 National daily newspaper USA Today picked up the story and gave it prominent online placement. The story was also picked up by regional television stations. We used this coverage to post to our own channels and target existing prospects to make them aware of our capabilities.
Aside from the promotional value of the coverage, the move grew into tangible business opportunities for our agency.
We positioned ourselves as valuable to the municipality hosting the event; the labels sponsoring the artist; the sponsor supporting the stages and the events; the media covering the events; and other professional service firms who want to use our capabilities to track content on behalf of their clients.
As a result, we secured meetings with a regional tourism entity, an international record label, and an international entertainment television network — all of which want to know how this can be put to work for their interests.
Finally, it has given us a proven example of approaching new business using social media as the door-opener. Rather than touting a big, impressive social department, we're touting a big, impressive social department that thinks like a marketing team; basing their recommendations on evidence and existing content, good solid analytics, creativity, and sustainability.
The follow-up
The beauty of listening is that you can turn it any number of directions, and it remains relevant to at least one audience. We've gone on to give "State of the Listen" treatments to everything from Comic-Con to Tales of the Cocktail.
State of the Listen: Tales of the Cocktail from Zehnder on Vimeo.
In addition, taking the time to listen sends a couple of important messages to a prospect. First, you care enough about who they are to spend unpaid time learning more about what makes them tick, and where the trouble spots are hiding. Second, it gets them thinking about how they want to grow and starts a conversation by stimulating unconventional thinking.
It carries a wow factor when you enter a meeting and plop a document on the table that tells the prospect things about their brand they previously did not know. It's the closest thing you'll ever get to a crystal ball or a silver bullet.
If you can establish yourself as an organization that listens first and acts second, then you will find yourself contending for a much larger slice of the commercial pie.
Jim Cheney works in new business development at Zehnder, a full-service communications agency with offices in Nashville, New Orleans, and Baton Rouge.