SEO Slogans: What's Yours?
Written by Courtney Seiter and published
---
---
Is search engine optimization having an identity crisis?
Sometimes SEO is dead. Sometimes SEO goes by other names, like content marketing or (shudder) inbound marketing.
But at Raven, we're not giving up on SEO. We're standing up for those three little letters.
We even think SEO should have its own motto, so we asked all our smart friends on Facebook and Twitter for some slogan suggestions.
Below are a a few of our favorites – and scroll down to the bottom for a blank template where you can make and share your own SEO motto.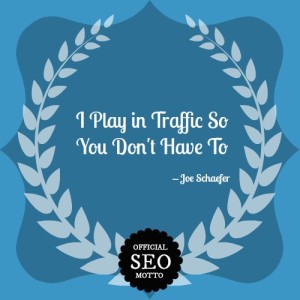 See these and many more noteworthy SEO mottos in our Google Plus gallery or on Facebook.
Create your own
Got a great SEO slogan you want to add? Our template is yours to download and use to create your own masterpiece. (Here are some tools that can help you with that – we used PicMonkey for the above images.)

And if you share your motto in a blog post or on your site, we wouldn't say no to a link back to Raven. We are all SEOs, after all.
Photo Credit: Eusebius@Commons via Compfight cc