Raven debuts SERP Tracker rank editing
Written by Jon Henshaw and published
---
---
Today, we have updated Raven's SERP Tracker to support rank editing.
Automated rank checkers provide an efficient way to find out how well your site is ranking for certain keywords. That's why Raven's SERP Tracker is such a popular SEO tool.
However, due to ever increasing search result variables, it's virtually impossible for automated rank checkers to return 100% accurate results every time. Things that may affect tracking results include:
Geolocation: Are you seeing what your client or manager in another state or country is seeing?
Search history and cookies: What have you browsed before?
Universal results: News, videos and social results frequently alter and mix up results.
Asynchronous data: Search results can vary from different datacenters, and can also change rankings daily or hourly.
These can become very frustrating when Internet marketers have to report ranking results to their clients or managers.
That's why we updated Raven's SERP Tracker to support rank editing. If you see a ranking result that is different from what you're seeing with a manual check, you can now change the rank number and the destination URL. This means you can continue running ranking reports within Raven, instead of having to export the data to Excel and creating a separate one-off report.
How to edit a ranking result in Raven
It's simple to edit rankings for the Website you're working with or for its competitors:
1. Go to Metrics > Ranking for the Website you're working with. To walk you through this process, we'll be editing the ranking for the Website raventools.com.

2. Find the keyword for which you want to change the rank. In our example, the automated rank checker reported a position of 6 for serp tools. We want to change that.

3. Click the gear icon to the far right of the keyword row in the ranking table. A drop-down menu will display the editing options for all search engines and competitors for which you're tracking that keyword.

Note: if you don't have "Display Competitor Results" checked in the SERP Tracker display options, you won't see your competitor's results for that keyword.
4. Review the modal window for editing your ranking result. For now, the information at the top of the modal window can't be changed—but the rank and the ranking URL can be. In this case, we're going to change the 6 for serp tools…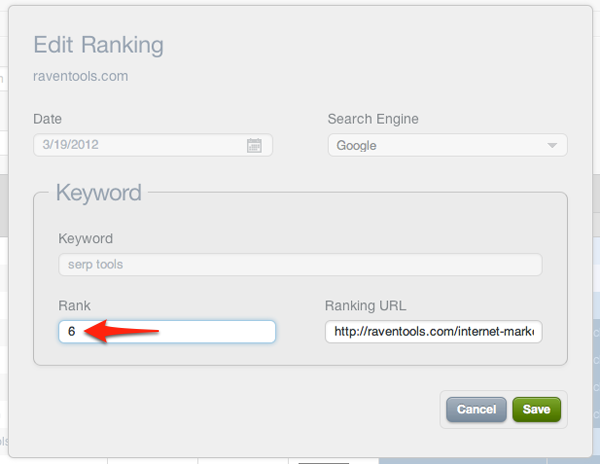 …to a 2. We click the green "Save" button to change our result…
…and the revised rank now shows up in our SERP Tracker table.

Please note, ranking results can only be edited on an individual basis—there are no bulk actions available. Also, editing a ranking result will permanently overwrite the previous rank, so use this feature with caution and consider controlling access with the Role Manager, as discussed below.
UPDATE, 3/27/12, 5:25 p.m.: You'll know a change has been made because the cell of the edited rank in the SERP Tracker table will be green. This will not show up on reports.
Reporting edited SERPs
Whether you run a quick report directly from the SERP Tracker tool, or you run a report from the Report Wizard, your edited result will show up in the report automatically.
How Raven's Role Manager fits in
By default, whatever read/write access rights a user on your account already has for the SERP Tracker, those remain the same for editing rankings.
You might not want to give everyone on your staff permission to edit rankings. If so, use the Role Manager. Go to Main Settings > System Preferences > Role Manager to create or edit roles based on permission levels. You'll find the SERP Tracker ranking access rights limits in the Metrics section.
You have three options for access rights with every tool within Raven:
Full access grants all access to the particular tool; for the SERP Tracker, this includes the ability to edit rankings
Read-only allows a user to see the data but not write to the system, which means a user can see but can't edit rankings in the SERP Tracker
None hides the feature completely from the user, which means the SERP Tracker tool is completely hidden
Then head to the User Manager to apply your role to each user.
Not familiar with Raven's Role Manager or User Manager? Learn more about how the Role Manager works, with Raven's Knowledge Base articles about the Role Manager, User Manager and setting access rights for new users.
SERP results importing
This is just Part 1 of Raven's plans for the SERP Tracker. Part 2 is importing ranking results.
From a software development point of view, editing ranking results was a technical prerequisite for importing ranking results. Now that we have released Part 1 and will be able to support rank importing, we hope to make it available within the second quarter of this year.
When it becomes available, you'll have the option to continue receiving automated results (from Raven's third-party partner AuthorityLabs) or you can choose to import your results using your own source, such as Advanced Web Ranking (AWR).
One more change
As part of this update, we have improved the language within Raven's SERP Tracker tool. Here are the new definitions of terms you'll see going forward:
No match: This means there was no match for your keyword within the first 120 rankings for Google or the first 100 rankings for Yahoo! or Bing.
Pending: (This category is new as of 3/21/12.) This means ranking results for this keyword for this week are still being retrieved.
No data: There is no result for your keyword. You weren't tracking this keyword for the week you're viewing.
We want your feedback
If you're a Raven customer (and if so, let's face it, a likely SERP Tracker addict), test the new rank editing features today. Please let use know if you spot any problems. Simply click the "Report An Issue" icon from within the SERP Tracker tool so we can try to replicate your problem.
If you have feature requests, email them to support@raventools.com.
And if you're not a Raven customer, sign up for a free 30-day trial today!