New features: Constant Contact, AWeber, Emma and more
Written by Alison Groves and published
---
---
Although we're still putting the final touches on our upcoming Site Auditor (just released!), we have a few more tricks up our sleeve in the meantime.
Namely, a slew of other new features to tide you over – including brand-new email partners and metrics, some much-requested Site Finder updates, additional research options in Research Central and more.
Read on to get the scoop on what we've been up to lately to help you do more and be more successful.
Lots of email enhancements
Raven has 20 – actually, make that 22 – data partners.
Today, we're launching a completely overhauled email metrics section in Raven, and adding Constant Contact and Emma to our arsenal of awesome data partners.
We're also pulling current data partner AWeber into the email section, too, to complement its existing leads integration within Raven's CRM.
Along with new partners, there's a streamlined new look for our email metrics – which also include partners MailChimp and Campaign Monitor – that falls nicely in line with what you've seen in Research Central, Website Auditor, and our social media management tools update.
Let's walk through the setup process so you can see some of the new, enhanced features.
Add email providers
Once you navigate to Metrics > Email, you'll be prompted to enter the login credentials for the provider of your choice. Each has its own tab for you to choose from.
For Emma and Campaign Monitor, you'll enter your account's API key into the fields in Raven. For Constant Contact, MailChimp, and AWeber, you'll be redirected to the provider's site to login and then returned to Raven.
You can add more than one email provider per website within Raven, but for best results you'll only want to authorize the service you use for that particular client/website.
View active campaigns, metrics
Once you have your service of choice authorized, you'll see a list of all of your active campaigns.

Select any campaign to take a deep dive into its performance.
You'll notice a gear menu on the top of that chart, which includes even more metrics you can add to this chart. If the metric is available for your email provider, it'll be an option there.
See Google Analytics data
If you have Google Analytics enabled for the website for which you're running email campaigns, you'll see that referrer data, too.
Also included? A dropdown with all of your Google Analytics goals (be sure to enable goals in Analytics > Settings) ready to overlay on all of the referrer traffic from this particular campaign.
Report everything
And of course, you can report all this data. Choose either the quick report option from the icons at right when you're in an individual campaign, or run a more comprehensive report using the Report Wizard.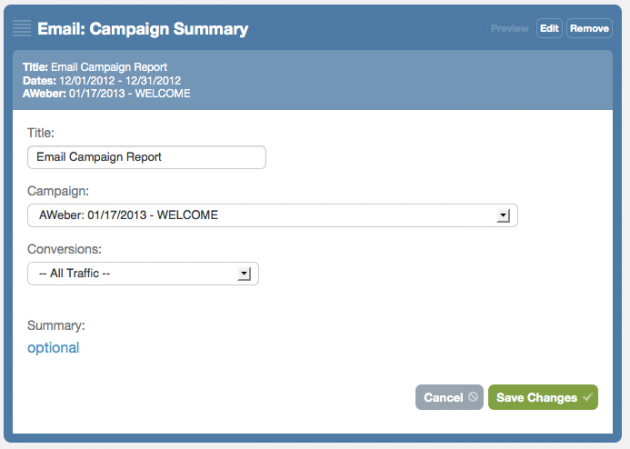 Site Finder upgrades
Combining data from both MajesticSEO and SEOmoz, Site Finder is a great tool to find highly authoritative websites targeting specific keywords.
Users have asked for the ability to select a specific country of origin in Site Finder – and now you can do just that. Input your keyword, then select from the drop-down menu the country in which you'd like to do your research.
We've added eight countries so far. If there are others you'd like to see, just let us know.
Another enhancement allows you to select the exact domains you want to focus on. Site Finder automatically finds domains that link to the top 10 results for your keyword phrase, but what if you want to leave out sites like Wikipedia and about.com out? Now you can. This will help you more quickly find the authoritative connections you're looking for. You can even add websites to the list if you like.
More research options for Research Central
With the upgrade of Research Central a few weeks ago, it's a seamless place to do internet marketing research – with SEOmoz, MajesticSEO, AdWords and Open Calais data available all in one place.
Now, when you're researching a domain or a keyword, you can dig even deeper with one click. Just click on the gear icon and select "Research URL" to be taken to a new Research Central page.
New CRM default
The CRM within Raven is a great way to keep all of your contacts organized, for whatever type of relationship building you're doing. In the "tiny enhancement that will save so many clicks!" category, the default type on all of the entries is now "business" when you go to add a new entry to the CRM. We hope this will save you some precious time when inputting contacts into the CRM.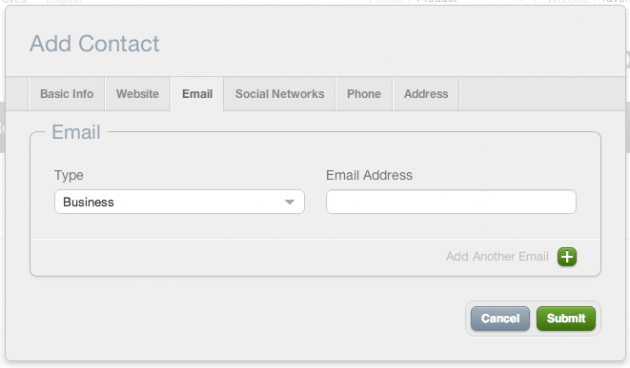 Content tools facelift
When we brought on Scribe as a data partner and introduced Scribe metrics into Raven, the Content Manager got a facelift to go along with it. Now, we're bringing the Blog Manager and Textbroker tools up to speed so you'll have a seamless experience navigating the Content section within Raven.
In the Blog Manager, it's easier to toggle between blogs that you need to push content to and designed to give you an an overall better experience.
With Textbroker, you'll find an interface that makes it even easier to not only order content, but also keep all of that content organized, with a view of accepted and ready articles right at your fingertips.
Let's hear it
As always, we're happy to hear from you about all our new stuff or whatever else you want to share. Tell us in the comments or email me at alison@raventools.com and let me know what you think.