New feature: Raven Chrome Toolbar for SEO and social media
Written by Jon Henshaw and published
---
---
I did a quick count, and Raven's fans have asked for a Chrome Toolbar one bajillion times, squared. Via the app. At trade shows. On Twitter. On Facebook. By email. By IM. I'm pretty sure I got a Christmas newsletter that noted its absence once. And I wouldn't have been surprised if Mike Wilton had sent a carrier pigeon.
Maybe that's why, when we announced by email Tuesday that we were releasing a Raven Chrome Toolbar today, one person simply replied, "I love you." Then there was feedback like this:
Ever want to stand up at your desk and yell "YES!!!!" thats how I feel about @raventools chrome toolbar

— Vinny O'Hare (@vinnyohare) August 28, 2012
Oodelolley!! @raventools toolbar for Chrome launches on Thursday!!

— David C. Minchala (@daveminchala) August 28, 2012
Oodelolley indeed!
Here's the link to go download the Raven Chrome Toolbar right this minute!
Then come back and read the rest of this post so you'll know all the ways it saves you time and helps you communicate with your team.
Plus, I'll mention a couple of updates we rolled out today, too: website notes and a UI improvement in the Link Manager.
1. Chrome Toolbar
The Chrome Toolbar is tightly integrated with several of Raven's SEO and social media tools, including the Link Manager, Contact Relationship Manager (CRM), Website Directory, Twitter Monitor, Facebook Monitor and Persona Manager.
It's like taking Raven with you while you browse online. And that lets us include toolbar-only features that aren't possible in our application. Those are noted below.
Also, if you've been using the Raven Firefox Toolbar for a while, you'll immediately notice several new features. Those are noted below.
What it does, briefly, with a lot of photos
We'll go from left to right. It's pretty simple. Directly from the toolbar, while you're visiting any website, you can:
1. Click on the star to go the Raven application Dashboard for the account, profile and website you're logged into.
2. NEW: Research the domain with Research Central, in one click. Clicking this will redirect you to the Raven application for Research Central, and the query on the domain will already be running.
3. Add links to the Link Manager or (NEW) view existing links for that website in a modal window.
4. NEW: Add contacts to the CRM, view existing contacts in a modal window or discover up to 10 new contacts for that website.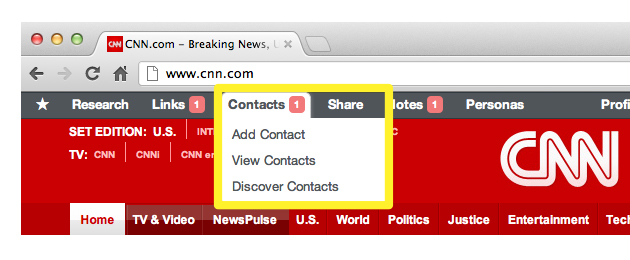 5. NEW: Share the page you're viewing across Facebook or Twitter accounts. The Toolbar will autofill the Share box with the URL. You can schedule the post for later, use campaign variables or shorten the URL. Note: These are accounts that you have authorized with the Facebook Monitor or Twitter Monitor for the profile and website you're working with in the toolbar at that moment.
6. NEW: Add notes to the Website Directory or view existing notes for that website. Raven debuted notes for links and contacts earlier this year, but website notes are new. Learn more about website notes below.
7. Go to the social media websites that you have stored in the Persona Manager; the toolbar will autofill your login and password credentials.
8. Switch quickly between Raven profiles and websites for the account you're logged into.

9. NEW AND TOOLBAR-ONLY: Switch Raven accounts — not just profiles and websites, but accounts. Are you an account owner of one Raven account, and a sub-user on another? You can switch between them with a couple of clicks.
10. TOOLBAR-ONLY: Find out which links on the page are dofollow and nofollow. Dofollow links are highlighted in green. Nofollow links are highlighted in red.
Whew. Got all that?
Remember, the download link for the Raven Chrome Toolbar is right here!
2. Website notes
Let's move on to another feature we have released today, website notes.
You can now add notes about any website via the Chrome Toolbar or Website Directory tool in the Raven app. Website notes are another way to track important information and collaborate on your campaigns.
Creating a note for a website via the Chrome Toolbar automatically adds that website to the Website Directory.
The Website Directory is a global tool. That means that any user on your Raven account can see any website details, including the notes, in the Website Directory.
The Website Directory is located in the Links section of the Raven app.
3. Link Manager UI updates
We've made simple updates to the User Interface of one area of the Link Manager where you customize Link Statuses, Link Types and Website Types. This change makes this menu consistent with other UI changes we've made to Raven recently, and it speeds up the time you spend customizing Raven.
In the old UI, you would click on the wrench icon in the Link Manager and choose a single option from the drop down.
That would take you to a page where you could make changes to the single option you selected. You would have to click on the Link Manager wrench drop-down menu again and choose another option to make additional changes.
Now, when you click on the wrench icon in the Link Manager, you'll go directly to a Settings page with three tabs — one for Link Status, one for Link Types and one for Website Types. You quickly can move from tab to tab to make changes to more than option.
Just as before, you can add, edit, delete and re-sort your custom Link Statuses, Link Types and Website Types. (A few default Raven statuses and types cannot be edited or deleted; see FAQs below).
Now you can also hide custom statuses and types or delete them with a bulk action.
FAQs
Is the Firefox Toolbar going to be updated to match the Chrome Toolbar?
No. Raven will only support the Chrome Toolbar going forward. There are a few reasons:
Chrome is the most popular and fastest growing browser in the world.
Chrome is the preferred browser of our customers. In fact, many of our customers say they only use Firefox because we haven't released a Chrome toolbar yet.
Toolbars are complex beasts. It's difficult to support one toolbar, much less two, for a platform like Raven that is adding new, deeply integrated features all the time.
We're not deleting your access to the Firefox Toolbar. If you are using the Firefox Toolbar now, you may continue to use it. We simply won't be updating it (i.e., it's deprecated). We strongly encourage you to switch to the Chrome Toolbar to take advantage of its greater functionality.
Remind me: why can't I delete certain Website Types, Link Types and Link Statuses?
These are the Raven default statuses and types. The Raven system requires certain types and statuses for other processes to run correctly, such as link monitoring. You cannot delete them, but you can sort your menus to move them to the bottom and/or hide a few of them.
What happens if I delete a Type or Status that's assigned to an existing link?
The Link Type or Link Status will default to "None." The Website Status will default to "N/A."
Want to update these links quickly? Go to the Link Manager, and turn on Link Status, Link Type or Website Status in the Display Settings. Then, sort the Link Manager table by the status/type column you want to address first. Select the checkboxes of the links you want to update, and apply the Bulk Action of your choice.
(And, yeah, it just occurred to me to make this simpler: a filter that searches for "None" or "N/A" would be great, wouldn't it? I'm on it.)
We want your feedback
As with any major release, we welcome your feedback, whether it's a feature request or bug that needs fixing. Send those to support@raventools.com. Our first priority will be any bugs.
And thank you to all of our customers for their patience waiting on a Chrome Toolbar.
Bam!