Raven has released a feature within our AdWords Insights tool called Search Query Performance.
Search Query Performance shows the search terms that people used when they clicked on PPC ads. It also shows impressions, clicks and conversions.
Both SEOs and SEMs will find value in this tool, if you have synced your Google AdWords account with Raven. Why? Not only is this a good research tool for AdWords customers, it provides data to help fill in the gaps created by (not provided).
Here's how it works.
How To Use Search Query Performance
1. Go to Insights > AdWords.
2. Click on the Search Query Performance tab. After a few moments, you'll see a table of the search terms that visitors used in Google that pulled up one of your PPC ads. You can see Impressions, Clicks, Costs, Conversions, Conversion Rate and more.
Toggle your Display Options via the Display Options icon.
3. Click on the Gear icon for any keyword for several action options.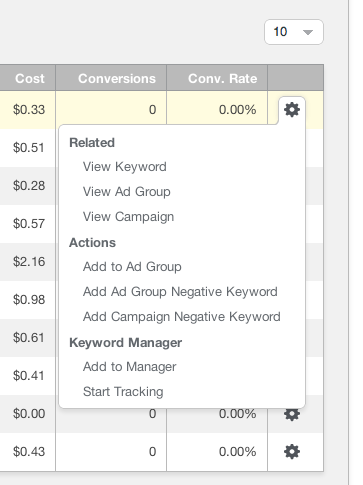 You can view the keyword, Ad Group or Campaign that were triggered by that search term.
You can add the search term to an Ad Group—which will add it to the Ad Group that was triggered by the search—or you can add it as a negative keyword to an Ad Group or Campaign. That's useful for keywords that were far off base for your target campaigns and could be costing you a lot of money.
Finally, you can add any keyword to Raven's Keyword Manager for follow up and/or turn on SERP tracking for it.
4. Use the drop-downs above the table to filter data at the Campaign or Group level. You can also change the date range and number of table results you're viewing.
5. Export your data by clicking the Export Data icon.
Please let us know if you have any feedback—simply email support@raventools.com.
For more information about the AdWords Insights tool, see our announcement about its release.