Raven Puts the GooGoo in Google Analytics Reporting
Written by Arienne Holland and published
---
---
Update Wednesday, June 11, 2014, 2:15 p.m.: The updated Google Analytics reports are now live in Raven. Check out what's new and improved below, enter our GooGoo contest, then go play in your Raven account!
Ever had a GooGoo Cluster?
It's a milk chocolate, caramel, peanut and marshmallow nougat confection that tastes like… well, that tastes like the most delicately sweet, lumpy, gooey thing you'll ever eat. Saveur calls it "a Snickers gone to finishing school."
It's a Southern thing, made in Nashville, Tenn., with an emphasis on quality. So is Raven.
When we thought about the improvements coming soon to Raven's Google Analytics integration, we couldn't help but draw comparisons to our hometown candy bar.
Let's break it down ingredient by ingredient.
Nuts
There's one difference between a GooGoo Cluster and a GooGoo Cluster Supreme: the nuts. A GooGoo Cluster features fresh roasted peanuts. A GooGoo Cluster Supreme upgrades to pecans.
Think of Raven's new Google Analytics reporting as the Supreme version.
Our original GA integration helped marketers report select metrics from these basic categories: Engagement, Referrer, Keyword, Engine, Landing, Geo and Social.
Raven's new GA integration still features those, but upgrades to Supreme with more than a dozen additional metrics or views. They were selected based on the most popular requests from our customers over the past year. Here's what's new:
All Traffic: Includes Primary Dimensions
All Referrals: Includes Primary Dimensions
Content: All Pages
Content: Landing Pages
Content: Exit Pages
Campaigns: Includes data for AdWords campaigns as well as campaigns created with custom variables
Events: Overview
Events: Pages
Goals: Raven now has a Goals section, where you can drill down to abandoned funnels.
Audience: New vs Returning
Audience: Frequency & Recency
Audience: Mobile Devices
Audience: Mobile Overview
Audience: Geo Language
Audience: Geo Location
Audience: Browser & OS
Social: Overview
Social: Conversions
Social: Landing Pages
Social: Network Referrals
AdWords: Raven's Google AdWords-in-Analytics section picks up the user-friendly navigation and color coding.
Advanced Segments: Updated to GA's new default Advanced Segments. (Note: The GA API does not allow us to retrieve your custom Advanced Segments. Use Raven's unique Google Analytics Custom Charts feature to achieve a similar result for reports.)
Marshmallow nougat
Nougat combines the best of two worlds: whipped, airy egg whites and soft, thick honey or sugar. (We wish we knew the secret recipe for the GooGoo Cluster's marshmallow nougat.) The result is a lightweight, velvety texture that's easy to digest.
"Easy to digest" is a great way to describe how Raven's upgraded Google Analytics integration displays change over time. Take a little taste test with me.
Without being able to see this exact data, can you tell me in two seconds whether this campaign is improving overall over time? This is how it looks in Google Analytics:
OK, how about now? This is how the same data looks in Raven:
Raven's color coding system makes good (or bad) change over time obvious. It helps you easily digest how you're doing.
Even better, clients can read your Google Analytics reporting without needing to decode anything. You want to make it as easy as possible for them to think, "I'm seeing progress with this agency, and I want to keep giving them money," right? Raven's GA color coding does exactly that.
Caramel
Caramel is the sweet glue inside a GooGoo Cluster, the stuff that binds the nuts to the nougat.
We like to think of GA's custom campaigns the same way. How do you know whether the content you're sharing over here is connecting with your audience over there? Use custom campaign variables like caramel woven throughout your marketing — they'll keep everything connected.
Now you have an even better reason: custom campaigns are fully reportable in Raven's updated Google Analytics integration.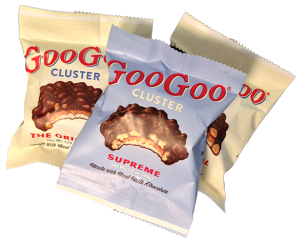 Don't forget you can use Raven's free GAConfig tool to help you set up your custom campaigns, too.
Milk chocolate
The nuts, the nougat, the caramel — all are essential to the GooGoo Cluster. But it's the creamy milk chocolate coating that pulls all of the ingredients together, packaging them into something you can't resist.
So too with Google Analytics data. The metrics themselves are interesting, but it's a sophisticated report that makes them irresistible to clients.
One of Raven's keystone benefits is that it speeds up the entire reporting process for online marketing agencies. That remains true for Google Analytics reporting.
Plus, your reports on your client's Google Analytics data will be unique — with your brand and Raven's simple visual interpretations — something they can't "just get for free directly from GA."
Yummy
Are you salivating yet?
You won't have to wait long for your new treat. Raven's Google Analytics upgrade launches next week.
Not a Raven customer yet? Sign up for a free, 30-day trial. Authorize Raven to access your GA data, and you can run as many reports as you like during your trial.
If you are a Raven customer already, then we have a sweet offer. Tell us how you use GA in Raven in the comments below, and we'll send a random winner a box — a BIG box — of GooGoo Clusters.
Either way, you win.
Photo of Jon Zumbrun: Nathan T. Baker. Other photos: Arienne Holland. Used with permission.