Free Raven Tools and Resources
Written by Courtney Seiter and published
---
---
"Do more, spend less."
It's long been a motto of Raven's, but sometimes we focus mostly on the "do more" part (Can you blame us? We integrate 25+ data sources into a gajillion useful tools).
So here's some info on the "spend less" part of the equation. Raven is the choice of thousands of marketers around the world, and with a starting price of $99 a month, we think it's a steal.
And because we love marketers so much, we also offer a lot of extra tools and resources completely free of charge. Here's a rundown of free Raven tools and resources.
GA Config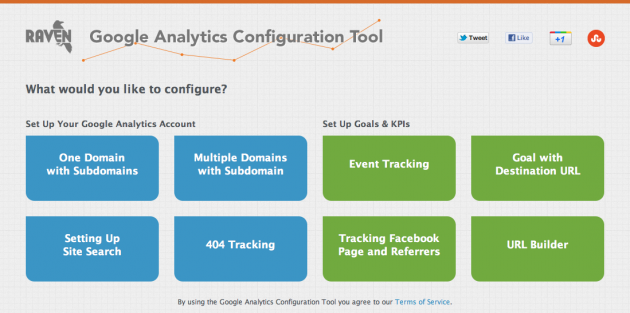 If you love Google Analytics but need a hand setting up accounts, goals and/or KPIs, our Google Analytics Configuration Tool is here to help.
GAConfig offers support for 17 configurations. Here's a sample of what you can do with GA Config:
"I just found your Google Analytics Conversion Tracking tool. This is better than sleepy kitty videos!"
–Marcus Snyder
Schema Creator and plugin
Structured data is a way for search engine machines to make sense of content in your HTML. Google and other search engines created a structured data standard called schema.org.
If you're like most web designers or SEOs, you might find schema.org a little difficult to grasp at first. That's why we created Raven's free Schema Creator — to help you quickly build and get started with schema.org microdata.
We've included some of the most popular schemas for you to create. After you create a schema, you can copy and paste the code to your site or add additional item properties to it.
P.S. There's also a free Schema Creator WordPress plugin!
"In my (completely uncompensated) experience and opinion, Raven's Schema Creator for WordPress Plugin and Schema-Creator.org tools are invaluable assets."
–Carrie Hill
SEO metrics resource

All SEOs have to prove their work. That means giving clients metrics that show your SEO plan is working.
This whitepaper dives deep into 28 SEO metrics in three categories: Reach, Actions and Results. It defines each metric, explains how to measure it and recommends questions to consider.
You can use the content to improve your own SEO measurement.
More importantly, you can share it with clients to help them understand the value of your work.
So download it here already.
"All account managers need to read @RavenTools white paper on metrics. Helps identify opps for MOAR business!"
-Don Rhoades
Social media metrics resource
There are hundreds of social media metrics you could track and analyze. Which ones are right for your brand? Which ones tell you whether your strategies are working?
This guide dives deep into 30 social media metrics — far beyond "just the basics." It defines each metric, explains how to measure it and offers questions to consider.
Use this guide to set goals and improve your own social media measurement habits.
More importantly, share it with bosses and clients to help them understand the real value of your work.
Start measuring by downloading it here.
"The team at Raven Tools has provided an excellent guide defining 30 valuable social metrics that take the mystery out of reach, engagement, and even the ever elusive social conversion."
-Michelle Stinson Ross
Raven newsletters
Be the first to know when we launch something new. Get a better understanding of the many tools in your Raven account.
Or just sign up for Raven newsletters to get insightful SEO and social media news you can use – we've written about the beauty of marketing rants, offered tips for more effectively using visuals and lots more.
"This is an exceptionally well written email. Warm and to the point with personality. Nicely done."
-Gabriel Reichman
Raven 101 and Raven Q&A
New to Raven, just browsing or want a little one-on-one time with a Raven pro? We've got you covered.
Every week, we offer multiple free webinars to walk you through the Raven platform and answer your specific questions. Choose from these two webinars:
Raven 101: These 60-minute training walkthroughs are the best way for new users to learn their way around Raven. Every session includes a demo of Raven's major SEO, social media, content, metrics and reporting tools.
Here's a sample from a recent Raven 101:
Raven Q&A: Do you ever ask yourself "How do I…?" or "Can Raven…?" Trial Manager Jonathan Moreland hosts live training Q&As to answer any question about Raven. Drop by and et your marketing answer in real time.
Check out our schedule to sign up for one or both webinars.
"If you haven't yet checked out Raven Tools, you should! Q&A sessions with Jonathan Moreland are great! Highly recommend!"
-Jocelyn Wilhelm
Free 30-day Raven trial

And the best free thing of all that Raven offers? A free 30-day trial.
We know that using Raven for a whole month with your own websites and your own data is the best way for you to find out if our tools are right for you, and that's why we encourage you to give it a try – for free.
"I must say after 2 hours into the 30-day trial I knew that Raven was a must-have. In-depth reporting tools delivered with an intuitive interface. The Adwords reporting tool is something that Analytics should strive to meet. If you are looking for a reporting tool to compliment your SEO/ SEM resources, RAVEN is it…"
– Rich Frederick