Does Chipotle kill cats—and tweet private customer orders, too?
Written by Arienne Holland and published
---
---
When I read about the Chipotle-dead cat-Facebook-hacker conspiracy this morning, I laughed and passed along the link to a couple of my colleagues, including Jon Henshaw.
We're outspoken fans of Chipotle — especially its online ordering system — and we were willing to give the company a break. Every company has employees. Employees are people. People aren't perfect. And some people are hackers.
Then this exchange happened this afternoon, and it made me wonder if there's another conspiracy: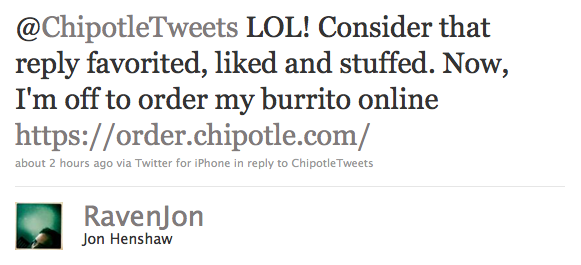 Let me get this straight: Lou guessed Jon's exact favorite order, because Lou likes chicken burritos with guacamole, too? Okay, maybe. Coincidences happen. The "no rice" thing is kinda specific to Jon, though. And the "fajita" part.
As shots in the dark go, Lou has damn good aim.
p.s. If you're going to guess again, could you guess Jon's credit card number? I have some Christmas presents left to buy.