Turn customer testimonials into brand megaphones
Written by Arienne Holland and published
---
---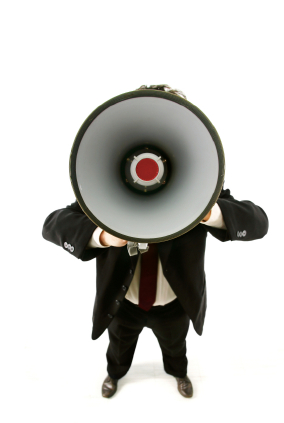 Before the invention of television, print advertising and the Internet, people relied exclusively on word-of-mouth referrals from friends and neighbors to decide who to do business with. A recommendation from a trusted acquaintance, followed by a handshake with a business owner, was all anyone needed to plunk down their hard-earned cash and start building a business relationship.
Today, social media is transporting us back to our roots by putting the power of personal testimonials high above other forms of advertising. In fact, social media is taking the believability of testimonials one step further: No longer do consumers even need to be acquainted with the person giving the testimonial in order for it to be believable. According to the latest Nielsen Global Online Consumer Survey, consumers trust real friends and virtual strangers more than any form of advertising. Ninety percent of consumers surveyed noted that they trust recommendations from people they know, while 70 percent trust consumer opinions posted online.
Termed "Consumer-Generated Media," this form of advertising has exploded in recent years. Capturing these business mentions and turning them into customer testimonials for the purpose of marketing your business should be the new crux of your marketing plan.
Truth in testimonials
Customer referrals come in many forms: face-to-face conversations, emails, social media and letters of recommendation. To capture these referrals and turn them into positive testimonials, follow these five steps:
Interview the customer: Once you identify a customer who has spoken positively about your business, contact them and ask to interview them in person or over the phone. This method will not only give you an opportunity to discuss your services with a satisfied customer, but it will also provide you with a wealth of information to use in your marketing materials.
Get permission: After documenting the interview, always send the final copy to your customer for approval. Include a release form that the customer must sign that grants your business permission to use the testimonial in all forms of marketing materials, including but not limited to print and Internet advertising, printed marketing materials, websites and blogs.
Use names: Quotes that are attributed only to "a satisfied customer" or "a client" can backfire. These attributions are not believable and are a surefire way to disengage future customers. Before the interview, always ask the customer if they are willing to include their name, title and company name in the testimonial; otherwise, find another customer to quote.
Follow the law: Be sure to follow the Federal Trade Commission's Guides Concerning the Use of Endorsements and Testimonials in Advertising.
Repeat: If your target market is in multiple industries, get testimonials from at least one customer in each industry.
Put testimonials to good use
Once testimonials are captured and approved by the customers, maximize their exposure by including them in all forms of marketing and advertising. A simple customer testimonial on a printed brochure or within the pages of your website can be powerful, and may be all a potential customer needs to persuade them to pick up the phone. You can even build a press release around the testimonial if it is newsworthy.
These dos and don'ts will help you make the most of testimonials:
Don't hide them: Creating a "Testimonials" page on your website is not advisable. Instead, sprinkle testimonials throughout your entire website so that wherever your website visitors go, they'll see a fresh testimonial.
Do videos: Video testimonials can be perceived as more believable than printed testimonials, and having videos on your website can also help with your website's Search Engine Optimization.
Don't reuse: Repeating the same testimonial on multiple pages throughout your website is also not advisable. Don't add testimonials to your website until you have enough to use just one per page.
Don't overpower: A good testimonial is one or two powerful statements about your company, not paragraphs of information. Visitors to your website scan information, so keep it short and to the point.
Do include big-name companies: If you serve nationally recognized companies, ask them to provide you with a written testimonial that has been approved by their legal department. This can often be a very difficult and lengthy process; however, including one big-name testimonial can be worth more than a dozen testimonials from unrecognizable companies.
Suzy Feine is president of Feineprint Creative Group Inc., a creativity agency in Minnesota that delivers customized marketing, public relations, web design and editorial services to emerging and established companies that seek to maximize their marketing efforts. For more tips, follow Feineprint on Twitter.