Bing Ads Arrives in Raven Reports
Written by Nathan T. Baker and published
---
---
Bing Ads is a Big Deal
Advertising on Bing Ads is sometimes an afterthought because of the massive reach of Google AdWords. But Google's dominance in the U.S. search network is increasingly being challenged by Bing.
Bing claims to reach a U.S. search audience of 31 percent for all search powered by Bing (Microsoft sites, Yahoo sites, and AOL sites).
Not only has Bing's reach dramatically increased over the last decade, but many marketers see the value in advertising on Bing Ads. Search Engine Land Columnist Pauline Jakober notes that you may see fewer sales from Bing Ads versus AdWords because of each network's size, but you could be getting a better return on your investment from Bing Ads since the cost per click can be nearly half that of Google AdWords.
Microsoft's acquisition of LinkedIn is a signal that Microsoft is continuing to innovate and invest in their advertising properties. As Bing Ads continues to look for ways to cut into Google AdWords' market share, having a professional social network within their wheelhouse puts them in a stronger position.
We know Bing Ads is being widely used since Raven customers consistently ask for the ability to seamlessly report on Bing Ads within Raven reports. And now the wait is over!
Starting now, all Raven customers can add Bing Ads data within their Raven reports.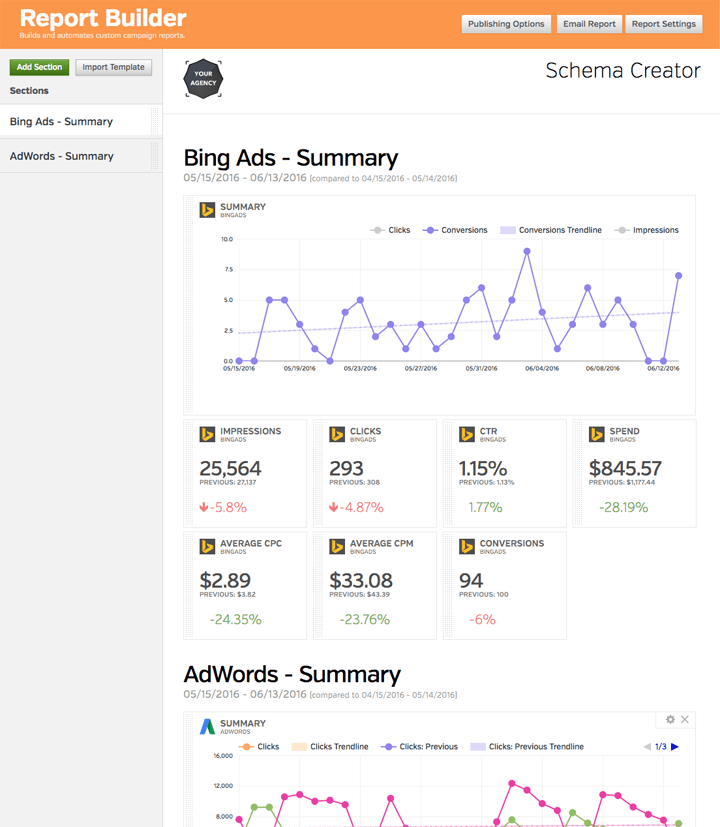 How to Report on Bing Ads in Raven
Here are the steps for including Bing Ads data in a Raven report.
Sign in or create a free Raven trial.
Go to PPC > Bing Ads and connect your Bing Ads account.
Go to Reports > Report Builder and click New Report.
Click Add Section and then select Bing Ads.
Select a widget you'd like to add or click Create Custom Widget to insert a specific metric.

Summary: 

Includes Summary Line Chart, Performance Line Chart, Impressions Stat, Clicks Stat, CTR Stat, Spend Stat, Average CPC Stat, Average CPM Stat, Conversions Stat, and Campaigns Table.

Performance: 

Includes Performance Networks Table, Performance Devices Table, and Performance Ad Slots Table.

Top Performers: 

Includes Keywords Table, Ad Groups Table, and Ads Table.

Continue to add more Bing Ads widgets or other reporting widgets.
Click Publishing Options > Publish Report or click Email Report to share your report. Or set a schedule for your report by clicking Report Settings.
Flexible Reporting for the Modern Marketer
Reporting on Bing Ads using Raven's Report Builder is powerful on multiple levels. First of all, you can report on Bing Ads alongside Google AdWords (including AdWords video ads), Analytics, Authority Labs rankings, social media, and so much more.
Using the Custom Bing Ads Widget, you can report on the following Bing Ads metrics:
Ad Groups
Ads
Average CPC
Average CPM
Average Position
CTR
Campaigns
Clicks
Conversions
Countries
Day of Week
Hour of Day
Impressions
Keywords
Performance
Performance Ad Slots
Performance Devices
Performance Networks
ROAS
Revenue Per Conversion
Spend
Summary
Once you have all the data you'd like included in a report, you have control over the visuals and details of how it appears. We know marketing is growing increasingly complex and different clients often need different things, but today it's easier than ever to manage all your client reporting in one place.
Let us know how you like our Bing Ads integration. And yes, we are working on integrating Facebook Ads as well. Stay tuned!