Feature update: Actionable alerts on links, site changes and more
Written by Alison Groves and published
---
---
Part of helping you do more and spend less – Raven's mission statement – is making sure you know what's important, right when you need it.
That's why we've enhanced your options to get alerts to your Raven inbox.
Not only have we updated our existing alerts for link monitoring and social media monitoring, we've also added enhanced alerts for Site Auditor and will soon be adding Site Performance and Dashboard alerts.
Here's what's new and on the way.
Updated link monitoring and social monitoring alerts
From the Link Manager, you can activate link monitoring alerts for a whole host of options. For example, if you are running a link building campaign and want to know when a link you're working on goes active, Raven pops a little note into your inbox to tell you that.
Alerts for Social Monitor let you know when terms you are monitoring have had mentions.
But previously, these alerts were text-based and hard to sift through. Now, everything is organized and easy to digest, so you can quickly act on the things that are the most urgent.
Enhanced Site Auditor alerts
Already one of Raven's most robust tools, Site Auditor is now even more indispensable with the addition of info-packed emails sent to your inbox every time a crawl is run.
Get alerted to any changes that have been detected for your website and get right to work – the email's got everything you need to get going.
In Site Auditor, you have an option to run crawls monthly, weekly, or manually as you need them. You'll get an alert email every time Raven crawls your site, so you'll be able to see changes over time as multiple crawls are run.
If you automate a crawl monthly or weekly, you'll get an email alert any time a crawl has completed.
If you set up Site Auditor to run manual crawls on command, you'll receive these alerts once the crawl has been completed. Having the changes over time sent right to your inbox is a quick and easy reminder that there are still on-site issues that need some attention.
In the sneak peek category, get a look at our upcoming alerts for Site Performance and Dashboards.
On the way: Site Performance alerts
Imagine having an update in your inbox every two weeks that tells you how your website is performing in more than 20 different internet marketing metrics, and notes change over time on all those metrics.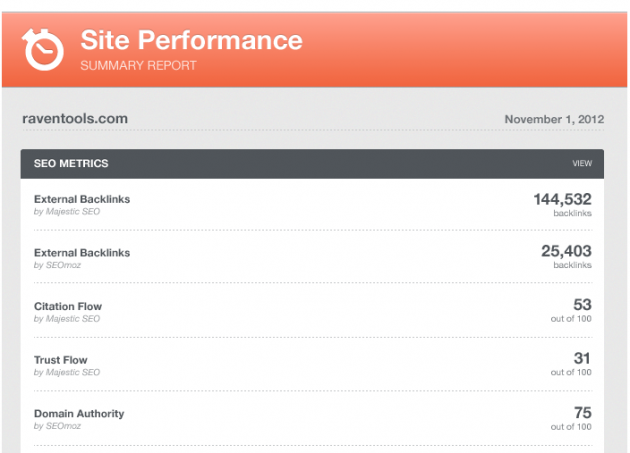 Site Performance updates automatically every two weeks, so when you turn on these alerts, you'll get them automatically.
Coming soon: Dashboard alerts
I know lots of you will be even more excited about our upcoming Dashboard alerts. Triggered at an interval of your choosing (daily, weekly or monthly), the Dashboard alert will mimic the exact view you have set up in the individual site's Dashboard.
This is just the tip of the iceberg – there are so many directions we hope to go from here in terms of alerts. What would you most like to see?
As always, we love to hear your feedback.